06

Apr 23

How To Choose The Best Products To Sell Online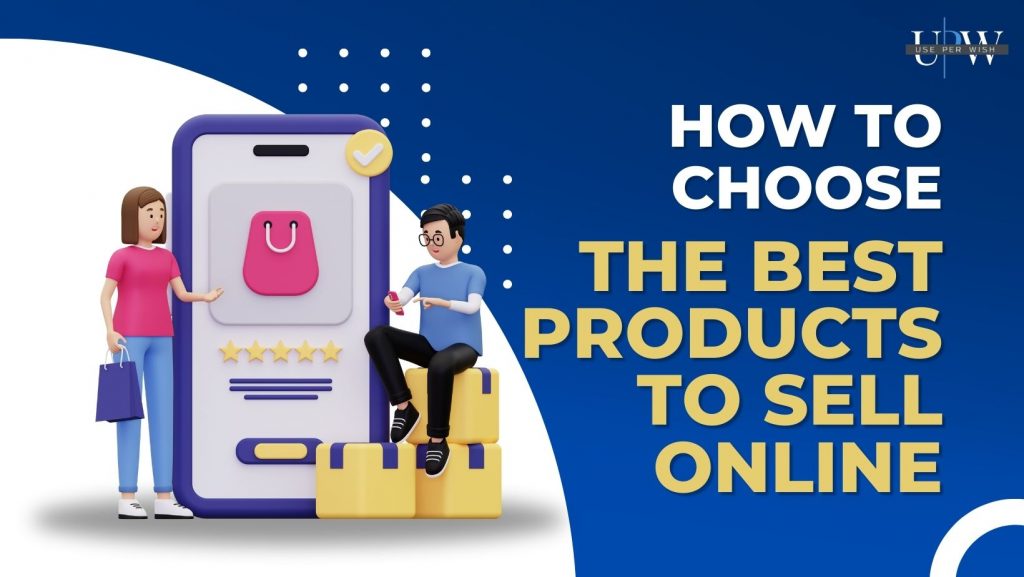 The GenZ generation is all about making good use of the online market. Every two seconds you come across an Instagram profile or maybe a Facebook post where people are making good use of their wit, creativity, and intellect to earn money.
You scroll your social media page and find out that people are creating online stories to grab attention. Now you might as well have some great ideas to make money online, but most of the time, you are just confused!
Should I click the aesthetic picture of my products? Or make a reel? What about the hashtags and which one to use?
To be very honest, social media and online platforms are great ways to sell your products and start your own entrepreneurial business. But before you start, let us first check out the perks of selling products online.
Benefits Of Selling Products Online:
As we all know, e-commerce means either selling or purchasing a product electronically online and it is the talk of the town now! And there is no doubt that selling products online has helped a lot of businesses to expand and grow, even across international borders.
There are a number of perks of selling your products online, some of which are discussed below:
Products are showcased through a number of mobile apps and directly reach the customer via voice assistants, websites, chatbots, etc.
It is convenient and highly cost-efficient
You are providing your customers with a huge variety of goods, in different colors, shapes, and sizes. Not to forget the extra added discounts
Advertising and marketing are robust, yet budget-friendly
A number of payment methods could be used
Easy search and hassle-free checkout
You are not getting constrained to a single group of people or individuals, but everyone can access all the products that you are offering, at any point in time.
Now, that you are aware of all the benefits of online selling, let us now check a few tips to sell products online, which shall allow you to earn a couple of extra cash.
1. Choosing the Right Platform
Choosing a platform is extremely important as it affects the choice of products and at the same time gives you an opportunity to expand your online business.
Moreover, you should always choose a site that allows customers to have multiple payment modes. This is because not everyone is acquainted with online modes of transactions. Therefore you would never want someone to discard your products since it doesn't have a cash-on-delivery policy.
On the other hand, if you are not accustomed to the technicalities of online selling, you can browse a bit and check out other websites that take care of all the technical parts. The only catch is, you might have to pay a little bit more, but nevertheless, the costs will gradually come down with the eventual growth of your online sales.
2. Shipping and Logistics
Shipping and logistics are integral parts of online businesses. Always choose the one which has a minimum charge or is absolutely free.
Now if you are planning to sell audiobooks, music, videos, or software, do not worry about the shipping part as your products will be downloaded directly by the customers and the payment will be done via online methods.
Later you can always track these downloads and check which one is more in demand.

3. Stocks and Inventory
If you are planning to have a space to keep your products stocked as an inventory, it will increase the cost of your business.
What can be a better alternative? Try dropshipping! Dropshipping is popular nowadays, as it requires very little money for setting up and the market is huge.
4. Price
Find products that offer a competitive price to your customer base. Keep the price as nominal as possible. If you keep the price higher that the competitors, that would automatically discourage your customers to buy your products. And if you keep it below the average price, customers might end up judging the authenticity of your products.
Therefore, try to keep the price more or less equal to what your competitors are keeping.
Online Products to Sell
For most E-Commerce beginners, it is usually difficult to choose the best product to sell online. Therefore you require to first segregate the industries. Once you are done choosing the way you would like to progress, get into the customer's shoes and figure out why would you buy the product and how is it relevant to what you do!
All e-commerce businesses should focus on value, quality, and the benefits of the products other than just creating a good product advertisement. Make sure you provide your customers with exactly what you have promised.
And last but not the least, be passionate about the product that you are selling.
Having no passion for your product can backfire on your plan for earning money. Thus find a product that could be food, clothing, commodities, makeup, books, gadgets, or anything that invigorates the passion that you have for your product.
With these selling online tips, you will start making money at a lightning-fast pace.
This is a brief list of products that you can sell online –
1. Commodities
If you still haven't figured out what product you want to sell online, start by selling day-to-day commodities. You can start by selling day-to-day products like soap, detergents, deodorants, cleaning products, cereals, etc. until and unless you find only what you have a niche for.
Day-to-day commodities actually have a huge market both online and offline, simply because everyone needs them. Thus it's always a good way to start your online business.
2. Handmade Products
Handmade products are also in demand. Most people like to decorate their houses using small, delicate, and yet exotic-looking products. And if you are a DIY person, you can make products out of paper, bottles, and other discarded or recycled items. Moreover, since the Go Green initiative is at its peak, and most people are getting concerned about the overall reduce-reuse-recycle concept, this is a smart way to start your online business.
Recycled products are highly valued, and therefore, you can have an upper hand. Moreover, you can connect with other people belonging to the same community, form a specific group and carry on with the entire selling and purchasing idea.
3. Kid's Products
Another best way to start your online business is by selling products that are essential for kids. For example drawing books, colored pencils, sketch pens, clay & dough, and small craft kits.
Let me share a small online selling hack with you. Click on the best seller tab on any of the online selling apps. Narrow down your search and make use of the most of it by incorporating your idea.
4. Pet And Plant Supplies
As they say, pets are the new kids and plants are now pets. Most people are either adopting a cat or a dog and in recent days, the concern related to our four-legged friends has increased to a great extent, especially after the outbreak of Covid 19. You can start by selling cat food, dog food, litter, litter trays, toys, and dresses. These have a huge growing market and with time these can help you to generate good profit.
On the other hand, you can also provide gardening supplies, like pots, cans tools, seeds, manure, and fertilizers.
5. Beauty Products and Health care
Okay so let us accept it! Women die to get the perfect shade of foundation that matches their skin tone. So, if you are a makeup Nzi, why don't you provide all the other beautiful people out there with a number of makeup products like lipsticks, kohl, eyeliner, mascara and of course nail paints?

At the same time, you can also sell health care products like aloe vera juice, pumpkin juice, and mixed seeds( chia, flax, pumpkin, sunflower, etc) that are good for health. Add a catchy headline to your products so that it attracts the potential group of customers and there you go!
Wrapping Up
Earning money can be fun when you are aware of all the little intricacies that come along with it. Moreover, the 21st generation is fast-paced. Everyone wants to earn right now and divide their time into different segments that will again allow the, to earn from those sources.
Money might be the root of all evil, but then again it is the only thing that helps you to sustain yourself in the long run. Therefore why not channel our way into doing something out of the box that will allow us to earn and at the same time help us to make a mark?
Thus, if you are looking forward to selling products online, make sure you have a passion for the product. As they say, "Choose the job that you love, and you won't ever be bored at work", similarly, choose a product you resonate with.
Nothing drives sales better than original and passionate ideas mixed with a bit of luck!
Use Per Wish understands the value of time for our clients and thus, comes up with a unique team of virtual assistants. Trained to deliver excellence, we always prioritize the needs of our clients to ensure the utmost customer satisfaction. We are pleased to offer an array of services like Content Writing, Digital Marketing, Website Development & Designing, Video Editing and more. Let us know, how we can come to your help and bestow our caliber for your cause.
Until next time guys! Stay tuned