07

May 22

Be A Successful Virtual Assistant with These Communication Tips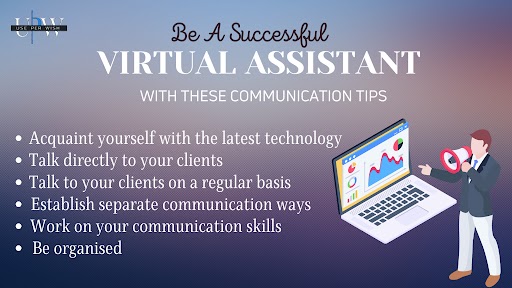 You might have recently started working as a virtual assistant or perhaps you are planning to leave your permanent office job soon to become a virtual assistant. You can, you need some good Virtual Assistant Communication skills.
With more and more people now embracing new lifestyles to create a work-life balance, you are not the only one exploring this sector. In fact, there are thousands like you already working as virtual assistants or VAs worldwide.
And why not? This is a fast-growing profession that offers perks like hourly payment and flexible working hours.
If you are a virtual assistant or planning to become one, your daily jobs will include managing data, attending phone calls, preparing travel itineraries for your clients and all those things that an assistant does for her boss on a daily basis. The only difference is that you can work remotely and for more than one client.
Now, with so many people now adopting it as a full-time career, you must know what sets you apart in the crowd. The word you are looking for is communication or Virtual Assistant Communication.
So, in this blog, let us find out why good communication is essential for a VA. You will learn how to improve your communication skills as a VA by implementing these communication tips that you can use to become better at your work.
Use These Communication Tips on a Daily Basis and Become a Better VA
Acquaint yourself with the latest technology & social media platforms
Talk directly to your clients
Talk to your clients on a regular basis
Establish separate ways to communicate with separate clients
Work on your communication skills
Be organized
Why Is Good Communication Essential for a VA?
Simple question! Simple answer! Because it is all about communication. If as a virtual assistant, you are able to establish good communication with your clients, half the battle is won. You need good communication skills because:
Good communication will help you explain yourself better to your clients.
It will help you make the first impression and we all know how important first impressions are.
Not just first impressions, but good communication will also help you retain your clients.
Good communication will form your clientele.
It will also help you quote your price with confidence.
Your communication skills will ultimately decide how far you will go in this profession.
Sounds too much, doesn't it? But don't get overwhelmed, as there are certain tips that you can use on a daily basis to establish good communication between you and your clients.
Important Communication Tips for Virtual Assistants
Are you already a virtual assistant? Do you often fail to get desired results? Do you always wonder why? Perhaps the answer is that you lack certain communication skills.
Let's explore the top communication tips for a VA in detail.
Acquaint Yourself With the Latest Technology & Social Media Platforms
Technology has transformed the way we communicate with each other, hasn't it? Now, you don't need to be face to face to communicate with each other. The whole work structure of a virtual assistant is based on the proper use of technology.
Remember! It is a job where you don't get to meet your clients daily, though you need to communicate with them on a daily basis.
It is only formal and professional to interact with your clients on a video call. Your clients may ask you to set up video calls for them. So, acquaint yourself with virtual meeting platforms. Give utmost importance to these platforms:
· Skype
· Slack
· Google meet & google hangouts
· Zoom
· Webex
Apart from that, also learn to use various social media platforms as you may be asked to look after the official social media handles of your clients. As a virtual assistant, you will be posting on social media on behalf of your clients, which is a major part of virtual assistant communication.
Talk Directly to Your Clients
In other words, keep it simple. As a virtual assistant, make it a norm to talk to your clients directly but politely. Talking directly here means doing away with any hesitation that you might have regarding the tasks given to you.
Talk to them directly in case of any confusion. Clarify all your questions related to the work. Tell them if there are any blockers from their side and remove all the obstacles in your way. Always follow up in case of any doubt, which will help maintain transparency. But it doesn't mean that you will bug your clients for each petty issue. Set your priorities and work accordingly.
It will help you perform better at work. It will also create trust in the minds of your clients, who will see you as a responsible and dedicated person.
Talk to Your Clients on a Regular Basis
Another important virtual assistant communication tip is talking to your clients on a daily basis. Make it a rule to have a regular video or audio call with your clients.
Talk to them and get daily updates on the tasks they are willing to assign you. Always remember your clients are busy. Sometimes, they may forget to assign you tasks or may forget about certain tasks altogether. In that case, it is your responsibility to update them regularly to never miss any important task.
Use this virtual assistant communication tip and make your clients feel important. This way, a long-term relationship between you and your clients can be maintained.
Establish Separate Ways To Communicate With Separate Clients
Remember! As a virtual assistant, you will be working for more than one client. And as you know, no two people are the same. Your clients will also be different and will prefer different ways to communicate with you.
Some clients may prefer to talk to you over the phone, while some may consider video calling you. Some may want to talk to you over email and, for some, a text message may be enough.
So, plan separate strategies to communicate with your clients and establish separate ways to do so. Just like you don't want to unnecessarily bug them, don't let them bug you every time something comes up. This virtual assistant communication tip will also help you perform efficiently.
Work on Your Communication Skills
You, as a virtual assistant, will not just be communicating with your clients but will also be communicating with other entities on behalf of your clients. So, you will represent your clients in front of other people and businesses. In that case, your communication skills will become extremely important.
Now, always keep in mind that your written communication skills are as important as your verbal communication skills. At times, you may be required to write emails or send texts to other businesses or you may be required to prepare various presentations and documents. Here, your written communication skills will come into play.
Similarly, your interpersonal communication skills also matter. Your body language, the tone and tenor of your speech and your facial expressions will play a big role in defining you as a virtual assistant.
This is not just a virtual assistant communication tip but is the most important part of your job.
Be Organised
Your job as a virtual assistant is to organize things for your clients. You will be managing their day-to-day work. You will only be able to do that if you are organized yourself.
Maintain a logbook in which you write down all your tasks for each day. This way, you will never miss any task.
Also, maintain a logbook of all your contacts with their names, designations and purpose of calling them. Plan your calling schedule. If you call a person twice and they don't pick up, call them later. Meanwhile, call another important person.
Use this virtual assistant communication tip for your own benefit. This will help you organize things and you will never feel ladened with work.
So, next time you wonder how to improve communication as a VA, keep these tips in mind.
Summary: Be A Successful Virtual Assistant with These Communication Tips
You can also become a successful virtual assistant by using these virtual assistant communication tips and enhancing your productivity. After all, communication skills are important for a VA. If you want professional VAs to work for you and help grow your business, get in touch with Use Per Wish and discuss all your business goals with our expert Virtual Assistants for an effective solution suited for your business.