13

Jun 22

Small Business Functions That Can Be Outsourced Easily
Outsourcing is a buzzword in the business world these days. Yes! Businesses across the world already know what to outsource for business and are actually outsourcing huge amounts of work to other agencies.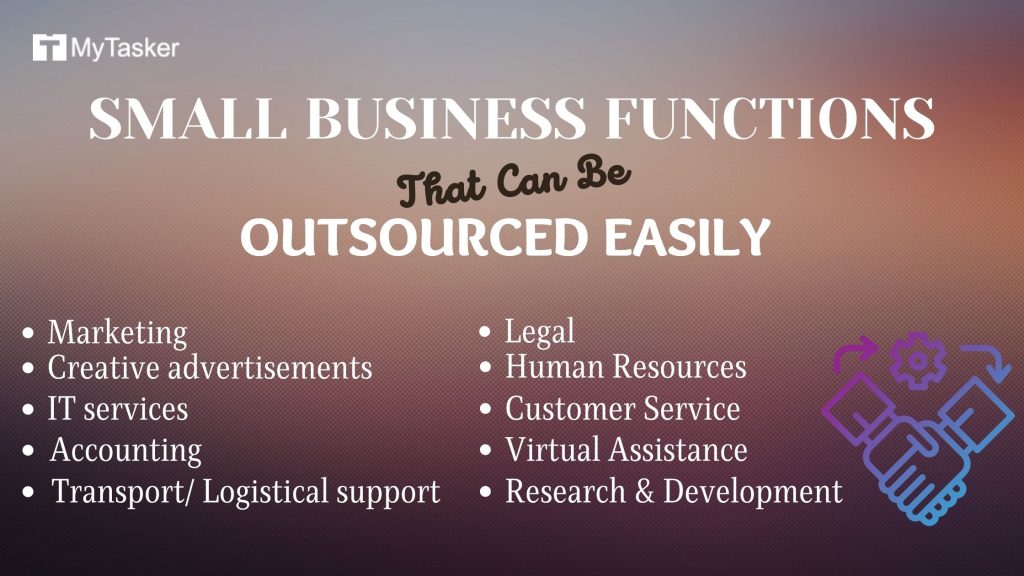 If you don't believe us, you might believe the statistics. According to the data available on the internet, over 50% of businesses globally are currently outsourcing some or other business functions in order to improve their efficiency.

Now, outsourcing can be defined as giving a fixed-time contract to an agency or an individual to perform various business functions that are important to enhance and grow your business.

Outsourcing is not just restricted to big businesses. It might come to you as a surprise but small businesses are more common to outsource business functions. As per Fortunly, over 25% of small businesses outsource as they think it is more feasible than setting up a whole team for a particular function.

Companies generally prefer to outsource marketing, IT support, and customer services to agencies like Use Per Wish that specialize in these services. Accounting is also one of the most common outsourcing services.

And these companies are happy to outsource. After all, outsourcing comes with its own benefits. It offers benefits like cost-cutting and saves time and money while taking a huge burden off your shoulders.
So, keep reading because in this blog you will learn about some of the most common as well as important benefits of outsourcing small business functions. You will also learn about the most common services that businesses like to outsource.

By now, you would have already realised that outsourcing business functions are more common than you think. 

But why do businesses prefer outsourcing?

Let's find out.

Why Do Businesses Outsource Small Business Functions
Experts believe that outsourcing small business functions can actually be good for your business. No business wants to incur a loss. For that, outsourcing can play a big role.

When you outsource, you reduce risks and sometimes avoid them completely, now that you have someone to advise you on what's right and what's wrong for your business.

Here are three benefits of outsourcing small business functions that might encourage you to outsource. 
1. Cost-cutting benefits: When you outsource, you give a fixed amount to the agency or the freelancer which does not change before the contract ends, no matter how volatile the market is. 
Outsourcing saves you money. After all, you don't need to set up an office, create and maintain infrastructure, or provide office space or other amenities. You don't even need to hire and train people to perform jobs that can be easily outsourced.

Apart from that, many companies in the developed world generally outsource services, especially IT services, from less developed countries as it is inexpensive compared to the amount that they might have to pay in their own countries. 
2. Expertise: When you outsource, you give contracts to agencies and freelancers who have expertise in performing certain tasks. You generally don't hire one agency to do it all but hire separate agencies to undertake separate responsibilities.
In a way, you are not putting all your eggs in one basket. So, if one agency fails to perform, you can replace it. Meanwhile, you can be optimistic about the performance of all other agencies. Not only that, when you hire an agency, you run background checks, ask for their portfolio and do your research before you invest your money. 

These agencies are a group of professionals who have years of experience in the field. They do their market research, analyze situations and make strategies that work. They know your competitors too. And any time you need expert advice, they are there. 
3. Saves time & increases productivity: Apart from being cost-efficient, these agencies are also time-efficient. They deliver output on promised time. They are also working for other companies and don't like to keep anything pending. 
When you outsource any business function, you free your team to perform their core tasks better. So, an It-engineer doesn't have to take interviews to hire more people. Your management doesn't have to ponder new ways to market their product. These tasks can very well be outsourced.

And you will be able to focus on what matters most to you, which is to make strategies that can drive overall growth.
After reading all this, if you are thinking about what to outsource, then, keep scrolling. 

Small Business Functions That Can Be Outsourced
There are a number of tasks that businesses like to outsource to clean up their plate. However, these ten functions are the most common ones that almost all the firms that prefer outsourcing, prefer to outsource: 

Marketing
Creative advertisements
IT services
Accounting
Transport/ Logistical support
Research & Development
Human Resources
Customer Service
Virtual Assistance
Legal
Let's see them in detail

Marketing
You have created a brand new product or service that can be very beneficial for your customers. However, unless you have a great marketing strategy, your product will not be able to make it too far. 

There, you need these agencies that can create superb marketing strategies and assure the growth of your business. When you outsource marketing, these agencies bring expertise and experience to the table. This is why two in every three B2B companies prefer outsourcing marketing, says Right source. 

Marketing will include social media marketing, email marketing, digital marketing, and video and audio production needed to market a product. 

Now, marketing is something that you will always need. These agencies can do their market research and update you on the latest trends in the market. They will also do a competitor analysis and SWOT (Strengths, Weaknesses, Opportunities, and Threats) analysis much needed to grow your business.

Creative Advertisements
Which the last advertisement was your favourite advertisement?

You probably remember these advertisements because some experts burnt their midnight oil to create something that would resonate for years.

Creative advertisements are a part of marketing but even marketing firms prefer to outsource them. You will need creative advertisements to run on TV, newspapers, magazines and on social media. In that case, outsourcing can be a good idea.

IT Services
Outsourcing IT services is the most common function that businesses do. IT services include computer systems, applications, internet services, servers, and networks.

Providing these services is not everyone's cup of tea. Only a firm that has expertise can do that. After all, IT is the backbone of any business.

Accounting
Finance and accounting are tedious and time-taking functions that might be a bit confusing for you if you don't have enough information.

Almost all the firms outsource Chartered Accountants (CA) services to handle their finance, taxation, and other financial stuff.

Therefore, it is also a very common area where outsourcing is and can be very beneficial.

Transport/ Logistical Support
If you are a firm that needs to move stuff frequently, maybe from factories to markets and vice versa, you might need to hire a transport agency to provide you with smooth logistical support.

These services are most commonly used by manufacturing businesses, product servicing businesses, and travel firms.

They don't buy all these vehicles and hire all the movers but outsource them.

Research & Development
There are times when you need to go out and talk to your customers in order to get their feedback. So, surveys are launched, door-to-door surveys are done and on the basis of that, an analysis is prepared.

Sounds too much! But if you outsource Research & Development, all these tasks will be done by the agency that you have hired to bring results.

Outsourcing R&D can actually be a good idea for your business.

Human Resources
You need people to perform business operations. So, you have put an advertisement in the newspaper and on social media and now you are bombarded with emails.

What should be your priority here? Should it be to reach out to and reply to each and every mail or letter or to focus on your work?

You know the answer. Finding the right candidate can be really difficult. But these Human Resource firms/recruitment firms know their jobs well. 

Customer Service
Many big companies prefer outsourcing customer services to BPOs and call centres. They act as a bridge between you and your customers.

Outsourcing customer service saves infrastructure, time and money. These firms will talk to your customers on your behalf and convey their feedback. 

So, you don't need to attend to each and every customer. They can do that for you by maintaining a cordial relationship between the buyer and the seller.

Virtual Assistance
Virtual Assistants are professional human beings trained to make phone calls, send emails and schedule meetings on your behalf.

Many start-ups these days, are hiring virtual assistants as it comes with cost-cutting benefits. It also offers flexibility. 

Legal
Face it! Every firm or company needs legal assistance whether it is signing new contracts or entering joint ventures.

When you outsource, these legal firms prepare legal documents, design contracts and save you from any risk of falling into any legal traps.

When it comes to legal advice, you need to have a well-wisher on your side.

Summary: These Small Business Functions can Be Outsourced Easily

There are a number of small business functions that can be outsourced on a daily basis by businesses as outsourcing saves time and money. It also brings experience and expertise to the table. 
If you are looking to outsource any task, get in touch with Use Per Wish for more details.